Heavy duty construction, top quality components, featuring high precision bearings, ball screws, spindle assemblies and ZF gearbox arrangements ensure powerful peformance across all machining requirements.
A variety of options are available including universal heads, both manual and fully programmable, rotary tables and extended auto tool changers.
With 'X' axis travels up to 10,000mm, these are truly versatile performers.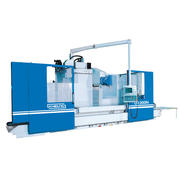 | Model | Description |
| --- | --- |
| | Kiheung U100N Bed Type Milling Machine |
| | Kiheung U1050N Bed Type Milling Machine |
| | Kiheung U1200N Bed Type Milling Machine |
| | Kiheung U1250N Bed Type Milling Machine |
| | Kiheung U1350 Bed Type Milling Machine |
| | Kiheung U1500 Bed Type Milling Machine |
| | Kiheung U1000LT Bed Type Milling Machine with Linear Guideways |
| | Kiheung U1200LT Bed Type Milling Machine with Linear Guideways |
| | Kiheung RT1000N Bed Type Milling Machine with Rotary Table |
| | Kiheung RT1200N Bed Type Milling Machine with Rotary Table |